Guided Tour
Take a guided tour of Workflow Map Printer and see all of the features available from this exciting new product compliance requirements. Read More >>>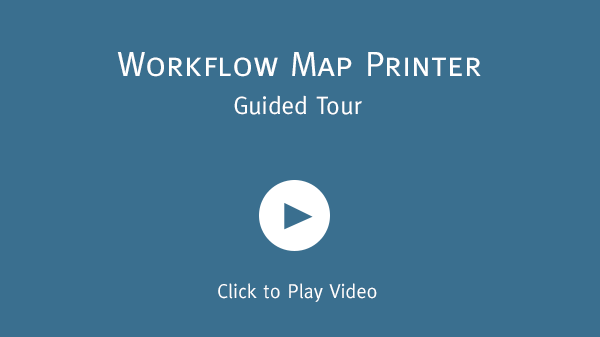 Print Workflow Maps
Provides easy printing of Content Server Workflow Maps
Facilitate Reviews
Great for facilitating workflow process design, reviews and documentation.
Workflow Map Printer for Content Server
How many times have you wished you could print a Content Server Workflow Map or cut and pasted several screen shots to make a complete workflow map? It would be so much easier to explain and review the workflow processes with the project team. Even troubleshooting can be easier.
To solve this problem we have developed Workflow Map Printer to allow a user to generate a JPEG image of a Content Server Workflow Map. Simply navigate to the workflow map to print, select where to save the image in Content Server and then have the module generate the JPEG image. Once you have the JPEP image you can print, e-mail or use it in documentation.
The Content Server Workflow Map must have content defined before the print option can be selected.
Key Benefits
Generate a JPEG image of workflow maps.
JPEG image will be saved in Content Server.
When desired the JPEG image can be printed, e-mailed and included in documentation.
Great for process and design reviews.
| Component | Requirement |
| --- | --- |
| Browsers | |
| Servers | Livelink Version 9.x, Content Server 10.x, 16.x on UNIX® and Windows® |
| Databases | |