Global Imports Rise Dramatically!
No, we are not talking about the latest trade data. We are talking about organizations ability to import data in to Content Server. Syntergy has released a major update to the Bulk Loader module and the improvements are designed to dramatically increase your ability to import content into Content Server.  The new release has a simpler setup page that allows you to configure your data movement precisely how you want it. We have also enhanced validation, improved processing time and added many more options for managing the data in the latest release.  In this article we will take a look at the changes and show you how they improve the efficiency of importing content into Content Server.
Syntergy has developed the new version of the Bulk Loader based on feedback from our many customers who use the module in various industries around the world.    About 10 years ago the original Bulk Loader developer finished a new release of the module and proudly stated, "Well, this handles about everything anybody could ever want to load into Livelink." He couldn't have been more wrong because the biggest request for improvement is always increasing the types of data that can be imported into Content Server and this new release is no exception.
The new version allows users to add, remove and upgrade categories for an object.  This improvement streamlines the handling of categories associated with objects.  For example, in the past users would see errors if they tried to add attribute information on categories that needed to be upgraded.  This required a two step process with the first step being a manual process to upgrade the categories and the second step being the Bulk Loader execution.  The ability to add and delete categories adds equal efficiencies to the Bulk Loader process.
Not surprisingly, customers are always requesting faster loading and updating of content.  This is a challenging requirement because along with this request customer want more validation.  The new release of Bulk Loader tackles both of these issues by adding additional validation of the input CSV file and faster loading of content.  A more efficient approach to loading the data was implemented in this version resulting in improved loading and updating speeds.
One of the changes we at Syntergy are most excited about is the improved interface where the user specifies how and what is to be loaded.  There has always been a tremendous amount of capability in the Bulk Loader but tapping into that capability has been a challenge for users.  In the past they had to look at examples, study the User Guide and then keep their fingers crossed that everything was setup just right.  The new release makes it much simpler to setup what you need to do.  This screen shot shows a new feature that allows users to load a CSV file from their desktop and update an object's metadata, saving them from having to first transfer the file to the server.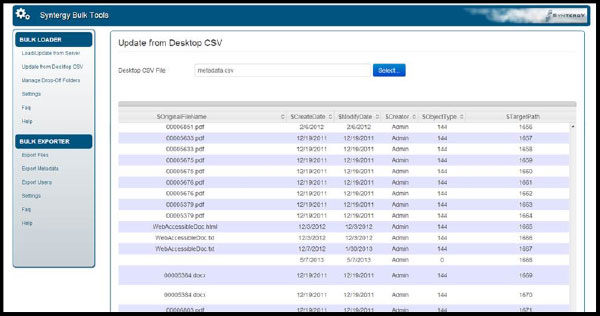 Example of the Updated Bulk Loader Interface Shows a Desktop CSV Upload
We have also added faster and more precise validation to catch any errors in the setup and CSV files.  Finally, we added better logging and error handling to help users correct problems that could not be identified in the validation stage.
Bulk Loader has always been the most popular product sold by Syntergy in terms of units shipped.  It was one of the first products developed for Content Server way back in the late 1990s!  There is a reason why bulk loading is such an active process in the Content Server world.  Below are the main reasons why companies bulk load:
Save Money: When it comes to moving data cost is a critical factor.  The simplest method for loading data into Content Server is also the costliest, manual loading by individuals.  Syntergy has participated in several projects where one of the options was to hire a group of people for a period of several weeks to load documents into Content Server.  The cost associated with this approach can become quite high once the cost of manual labor, training, validation and correcting errors is taken into account.

Bulk Loader is a far more cost efficient approach.  It can usually be managed by one person, the accuracy rates of loads are typically 100 percent and the loading can be staged to run at the times that are most efficient for an organization.  Detailed logging of errors greatly simplifies corrections and validation.  When you add up all of these benefits the automated solution is far less expensive than other options.
Accuracy: A major problem with many methods of data loading is validating that the loads are accurate.  Human error is a major problem with manual loading and there is not an efficient validation process to insure the accuracy of the loads.  Programmatic loads from other systems are often inaccurate due to poor design, data mapping issues and bugs in the code.

A big benefit of using Bulk Loader from Syntergy is that you can stage your data before the load.  This gives you time to inspect the data to insure it is accurate which is important if it is coming from another system.  This allows you to concentrate your time and resources on validating the data before it is loaded which helps to insure an accurate load into Content Server.  You can run your test cases multiple times to make sure the process is correct before moving on to the final data loading.
Efficiency: Bulk Loader is extremely fast which creates amazing efficiency.  It also comes with all the options you will need to load your data for your environment.  Because Bulk Loader has been a product for over 16 years it has been developed to handle just about every data loading scenario possible in Content Server.  It can load documents, URLs, users, metadata, records and more!  There are options for loading watched folders which makes automated loading simple and easy.  The detailed logging, including error logging designed to help you identify problems fast, has been developed from years of experience working with hundreds of customers.  All of these factors in one product create an extremely efficient loading environment.
Flexibility: In today's business environment flexibility is always a top issue.  Many organizations are broken into multiple units with each unit having their own approach.  Syntergy has worked with many organizations like this and therefore Bulk Loader has been designed to handle the needs of different groups.  The easy to use interface allows you to setup as many loading scenarios as needed.  One group can load documents with metadata in off hours, another group can update metadata on demand while another group can load information based on a set of rules specific to their environment.

Bulk Loader's flexibility of operation means your organization can save time and money by going with a single solution.  With Bulk Loader only one module has to be added to the system, only one module is managed by the administrators and the users are trained on only one module.   
Speed: Many data loading projects require one simple function to be successful.  They need the data loaded quickly.  This is typically true in organizations that have hundreds of thousands of documents to load.  If the process is not fast enough the users don't have access to their data in a timely manner.  Some organizations generate tens of thousands of documents a day from other systems.  If they can't get them into Content Server quickly the system is of no use.  For these reasons and more, Bulk Loader has been finely tuned to load information at lightning speed.  Customers are been amazed at how quickly documents are loaded.

Because Syntergy has been developing Bulk Loader for over 15 years we know the fastest ways to get data into Content Server.  Along with the speed you get all the other advantages of a product that has been used in every environment imaginable.
Syntergy has been in the Livelink data moving business for over 15 years.  We have three main data moving products – Replicator, Bulk Loader and Bulk Exporter.  Organizations seem to always have a need to get data in and out of Content Server and Syntergy has the tools and experience to get the job done efficiently for a low cost.  If you are interested in importing data into Content Server in one step you have several options to obtain more information:
Attend the upcoming webinar "Simplify Importing and Exporting Content Server 10 Data" on Tuesday, October 8th at 11:00 A.M. - Noon EST / 8:00 A.M. - 9:00 A.M. PDT.  This informative webinar will demonstrate the capabilities of the Syntergy Bulk Loader product and how it provides a simple, efficient and flexible tool for importing and exporting Content Server data.  The webinar is presented by Syntergy's Senior ECM Consultant, Kit Miller.  Sign up now for this free informative webinar hosted by Syntergy.
Syntergy and OpenText produced a joint webinar that invited customers to learn more about the Bulk Loader tool.  This webinar was extremely well attended and the feedback was very positive.  Click here to view this webinar on demand.
Syntergy has always had quite a large interest in the Bulk Loader package.  To see if it is a good fit for your organization we encourage you to contact Syntergy's Martin Black at mblack@syntergy.com or call him directly at (561) 702-7140.