Syntergy Director: Manage Content and Metadata with a New Easy to User Desktop Application
One Customer buys over 3,000 licenses
Syntergy is excited to announce Director, the latest in a long line of innovative products for Content Server. Syntergy Director for End Users is designed and developed from the ground up to ease the burden of managing content and metadata. Director is a desktop application that allows users to connect to one or more Content Server instances to perform operations such as export, import, copy and move of documents between Local or Network file system and Content Server. Because Director is powerful, yet easy to use one early adopter purchased well over 3,000 licenses so all of their users could work in Content Server using Director. In this article we take a first look at this exciting new product.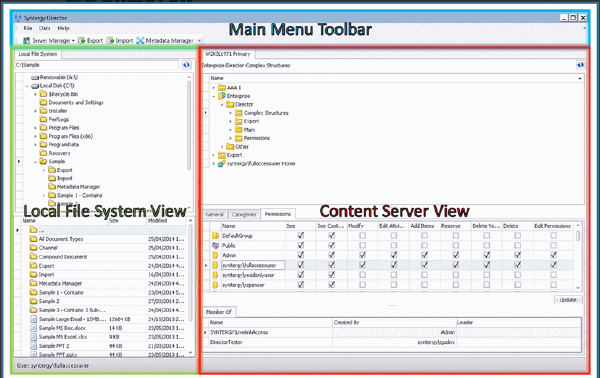 Director Application Interface Highlighting Each Data Area
The above screen capture is highlighted to show the different working areas containing data a user can access.  The left pane (highlighted with a green border) shows the local file system view which can include network drives.  The right pane (highlighted with a red border) shows the Content Server view.   The Content Server view shows folder hierarchy at the top and the associated metadata of the selected item at the bottom. The metadata includes general attributes, category attributes and permissions. 
The key benefits of Director are:
Manage one or more Content Server instances from a centralized location
Drag & Drop enabled interface
Manage metadata by adding and updating category and attribute values
Export data (including metadata and versions) from Content Server to the local file system
Import files from a file system or network share while enriching the data with categories and attributes
Runs on 32 and 64 bit OS
No Content Server modules to install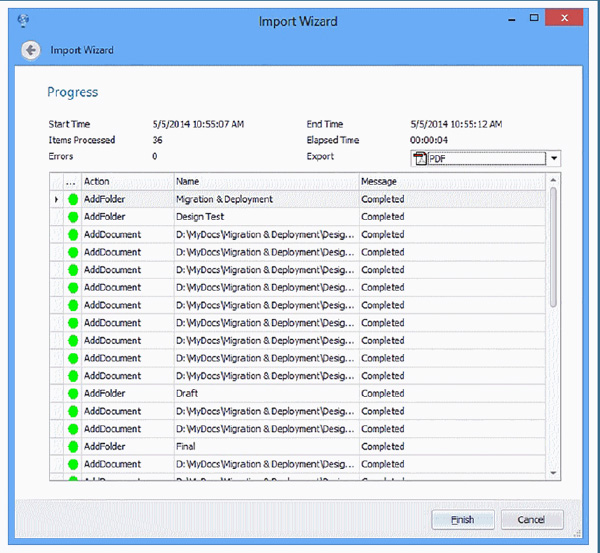 Director Application Interface Show an Import
All of these benefits allow users to more easily search and find documents.  The improved accessibility and navigation mean users will use Content Server more.  Director is great for Administrators as well.  The easy to use interface allows them to reorganize content to improve the Information Architecture.  It will also reduce the time IT or Content Server administrators spend classifying and organizing documents.  Director also supports access to cloud environments such as Open Text Cloud.
If your organization is looking for an easy, efficient way for users to access Content Server from their desktop Director is the answer.  The ability to import and export data is an added bonus.  To try this exciting new product from Syntergy in your environment email info@syntergy.com or call Martin Black at (561) 483-2020.