Syntergy Announces Improved Website
Syntergy is excited to announce that our website has been updated to provide more information on our products, allow access to our current and recent newsletters, include videos that show how to use our products, include videos that show product tips and tricks, provide new product information and create an improved look and feel. The goal behind all of these updates is to make it easier for our current and potential customers to get the information they need about our products, services and organization.
The biggest addition to the website is the use of video to show the basic functionality of our products. People interested in a product can navigate to the product page and watch a short 3 to 4 minute video that shows the basic functionality. This will give them a good idea if the product fits their needs. If it does they can then request an evaluation copy so they can review all the features. We are going to be adding "tips and tricks" videos for our advanced users that already own the product. These videos will demonstrate advanced functionality more clearly than written documentation.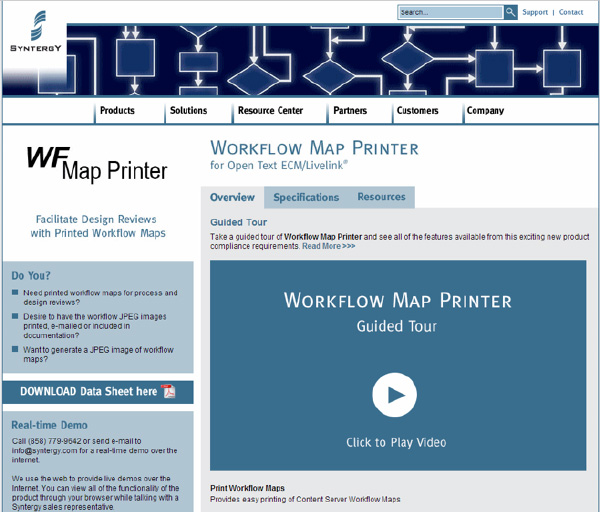 Example of New Video Display on Website
The redesigned website now has an area for viewing the current and past newsletters. Syntergy publishes this newsletter quarterly.  Readers have often requested previous versions because they contain lots of information about our products, Content Server technology and Syntergy events and resources.  The Newsletter Archive is available from the Resource Center menu. (See below)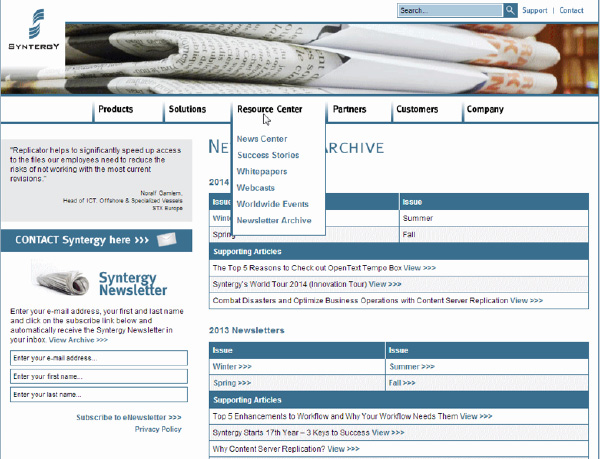 Example of New Area of Website Displaying Newsletter Archive
One of the most important areas of the website is the Worldwide Events and Latest News sections located on the home page of our website. These scrolling banners list the upcoming events Syntergy will be attending and the latest activities for the company. Each event window has a link that can be clicked to expand the event information or to see all the scrolling information at one time.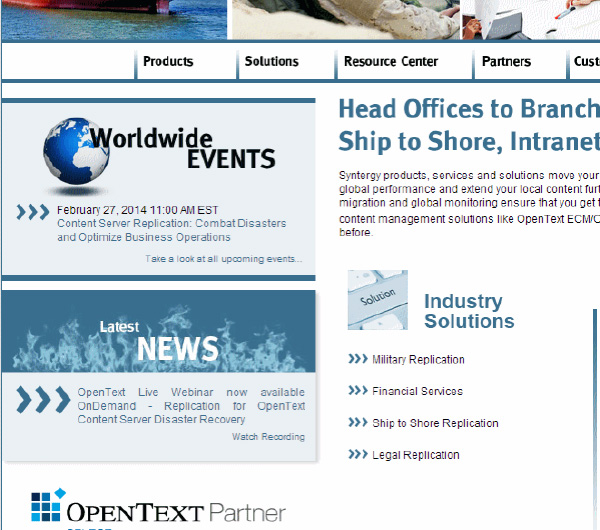 Example of Worldwide Events and Latest News Sections
For the latest information on Syntergy visit our updated website.  If you would like to schedule a demo or if you have any questions please contact us by calling (858) 779-9642 or email info@syntergy.com.